Moving into a new senior living neighborhood or community can be a highly emotional experience for many older adults. It can be a stressful time for their family members, as well. That's why we encourage people who are considering a move to one of our senior living neighborhoods, either for themselves or for a loved one, to come spend some time with us at our events.
When people see how comfortable everyone is here, and how much the residents, staff, and family members enjoy interacting with each other, it helps dispel any concerns they might have about feeling isolated or ill at ease. We put a lot of effort into making sure there are plenty of opportunities for families and people in the community to come have fun. It truly is a labor of love.
Louise, a family member of one resident, said, "It's home. You come here with them, you interact with them, you bring your children here to see them, and your grandchildren. We're all made to feel welcome here, and so it's our home away from home."
Our Unique Approach to Senior Living Neighborhoods
With just one visit, you'll understand why our senior living neighborhoods are so different from the usual retirement community. We have villas in our communities. Not multi-story buildings where residents live by themselves or with a spouse in an apartment. Each villa is home to 10-16 residents.
This personalized care home model offers a more intimate, home-like setting. Care is tailored to the needs of each resident. And the home-like setting means a real sense of family exists among those who live within a given villa.
Each villa has one of the neighborhood amenities. For example, the salon or the fitness room. With amenities in different villas, residents throughout the neighborhood get to know each other and form new friendships.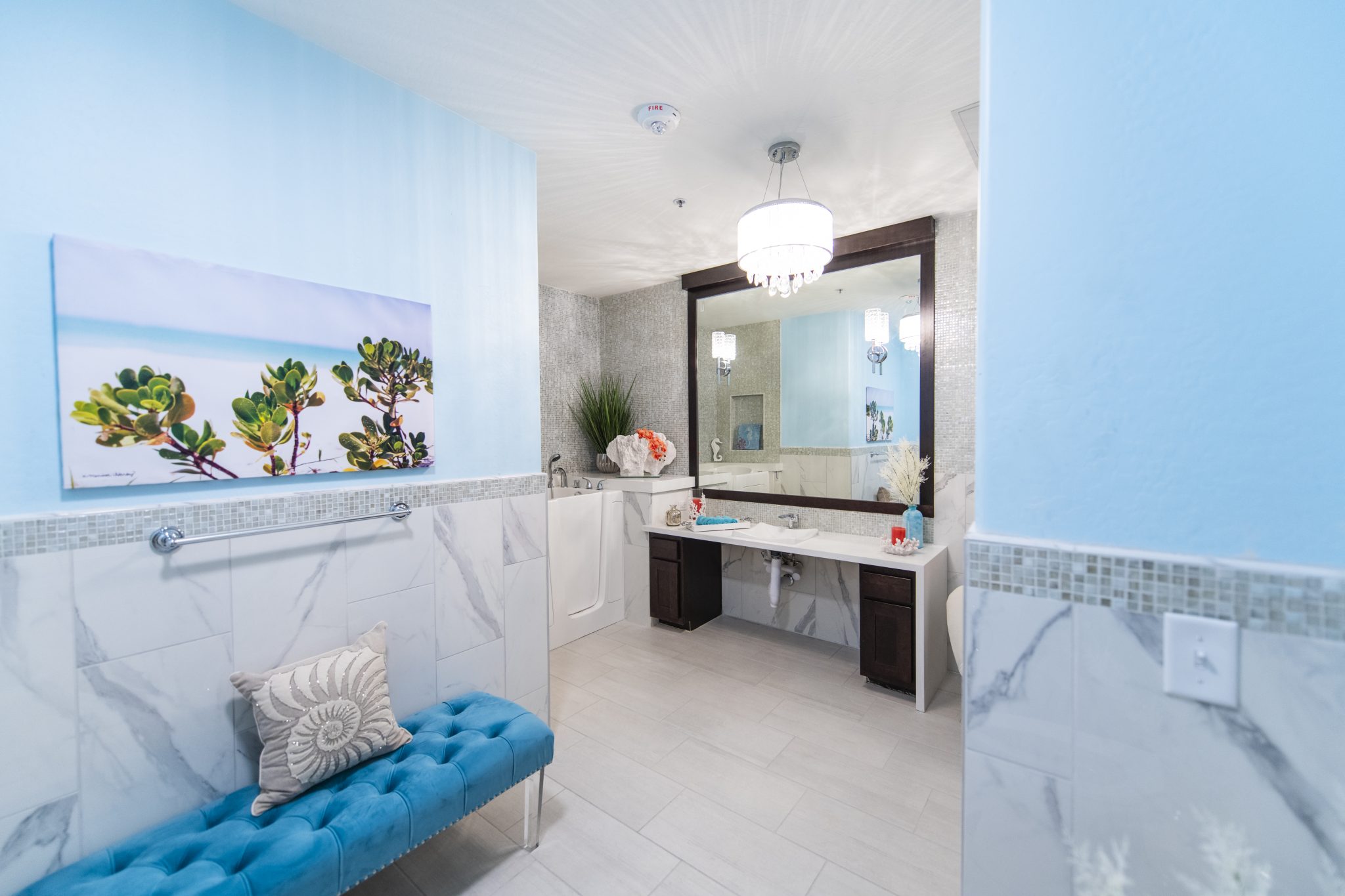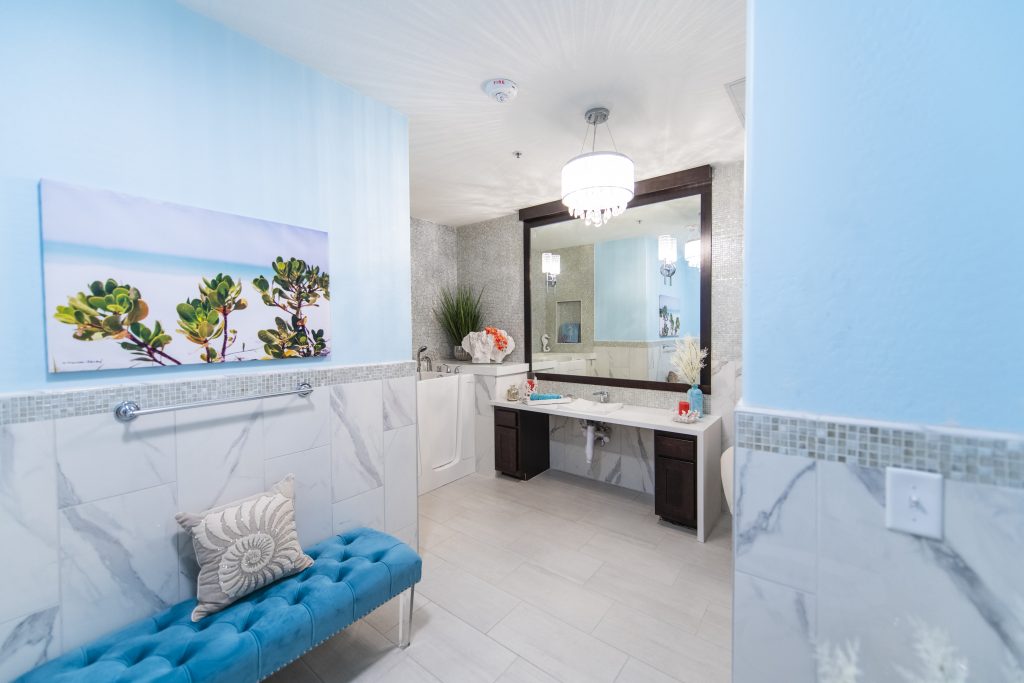 Each villa also has its own care manager, caregivers, and other staff. Thus, residents see the same Park Senior Villas employees every day. That familiarity helps to create strong bonds between residents and staff.
"You become one big family," said Janice, one of our care managers. "You get attached to the people you take care of."
This cozy neighborhood setting also helps family members — especially young ones — feel more relaxed. The more often they come to visit, the easier it is to see the staff and other residents as part of their own extended family.
"We're all like a family here, which is pretty amazing — not only with the residents but also with our co-workers and the staff and the administration in the office. I love coming to work every single day," said Celeste, one of our caregivers.
Fun and Family in our Neighborhoods
Every day, residents have plenty of options for having a good time with each other and the staff. It's the special events, though, that we all really look forward to.
Now that we've been able to open up and welcome families, potential new residents, and people from the surrounding community back into our senior living neighborhoods, we've held several events in each Park Senior Villas community — and more are on the calendar for the weeks ahead.
The biggest event we've had recently was the Golden Ticket Bingo Extravaganza we held on June 26 to celebrate National Bingo Day. Each of our four communities welcomed residents' and staff members' families, local sponsors, professional referral sources, and people who wanted to know more about Park Senior Villas to join us for dinner, a dessert bar, music provided by a local DJ, and an evening of games and prizes — including an assortment of gift cards and gift baskets donated by local merchants and sponsors, and a grand prize of $1,000.
"It was a really fun event," said Lindsay Estrella, the general manager of the Houghton location of Park Senior Villas. "It was one of the first bigger events that we've done indoors since we've been able to ease some of the COVID restrictions, and it brought that family feel back together that we try to promote."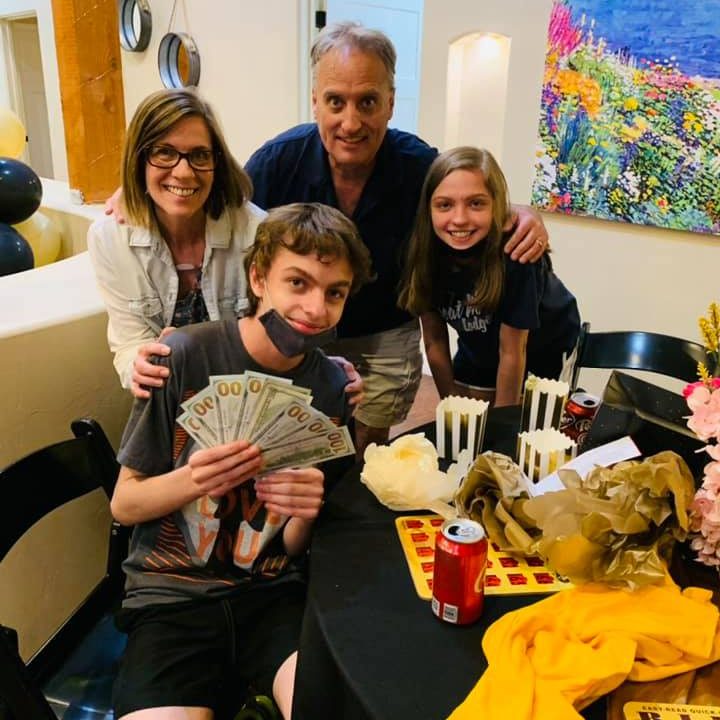 Fun, fun, fun for everyone!
The bingo extravaganza is just one example of the kinds of events we typically host. Our Houghton location had a car show for Father's Day. The Tucson Street Rod Association brought several classic cars to the neighborhood. We even had a snow cone truck and a kettle corn truck!
Each community had a celebration for the Fourth of July, too. At Houghton, it was a Jukebox Jamboree with a '50s theme. The ladies wore red cat eye sunglasses, and the men wore straw hats. A hot dog truck and a sundae bar added to the fun. "We had a blast!" said Lindsay.
Our La Cañada location recently had a catered barbecue for first responders who serve the community. Local vendors provided goody bags, and attendees could enter a raffle featuring donated gift cards to Top Golf, Texas Roadhouse, Nike, Dick's Sporting Goods, and Sportsman's Warehouse.
Another recent event at the La Cañada location was a Back-to-School Bash. Families in the surrounding community came to get a bagful of donated school supplies, learned about water safety, bike safety and nutrition, and maybe even won a bike helmet or a gift card in the raffle.
And this month's pet therapy event was a bit of a departure: Through its partnership with the Humane Society of Southern Arizona, the community was able to arrange for a variety of reptiles from the Sonoran Desert Museum to come visit.
"It was interesting — something different for the residents to engage in," said Isabella Conte, general manager of the La Cañada community. "It touches my heart to see them interact with the animals at the pet therapy events because it makes them so happy!"
See what's going on in all of our senior living neighborhoods
To get a feel for the family-style environment our communities offer, you can find us on Facebook.
Or, better yet, check out the events page here on our website. Choose an event that sounds appealing at our nearest neighborhood, and come see us. We'd love to show you what we're all about!