Welcome to Park Senior Villas at Chandler
Welcome to Park Senior Villas at Chandler
Welcome to Park Senior Villas at Chandler
Assisted Living in Chandler, Arizona
Chandler is located 25 miles southeast of downtown Phoenix, with scenic mountains views in the distance. It has Chandler Fashion Center, one of the largest malls in the southwest, and a vibrant downtown with a variety of shopping, restaurants, and events including the extremely popular and fun-filled Ostrich Festival. The endless days of sunshine, recreational parks, and family-friendly atmosphere make Chandler one of the "Best Places to Live" according to Money magazine.     
Park Senior Villas in Chandler will have 7 Villas inside a beautiful, secure park with lush green grass, trees and park benches. The expansive grounds will allow you to take cool morning walks or evening strolls as you watch the sunset over the western mountains. You can have breakfast and coffee in the courtyard listening to our tranquil fountain or relax while watching a classic film in the movie theatre.  The family-oriented Villas are richly decorated and make you feel like home because you are in a home, surrounded by a loving and caring staff ready to assist you throughout your day. Chandler also has a community "Bistro" with lively socials featuring guest performers every week. We invite you to come and enjoy a day at the Park in Chandler, where you can partake in one of our engaging activities, share a delicious meal, and meet our caring and experienced team!
Park Senior Villas provides a continuum of all levels of care, and a range of rates to ensure affordability. Our Villas offer double occupancy which provides the personalized care you need in this luxurious setting while allowing you to stay within your budget. Also, studies have shown that double occupancy can be a preferred living arrangement when living with cognitive challenges.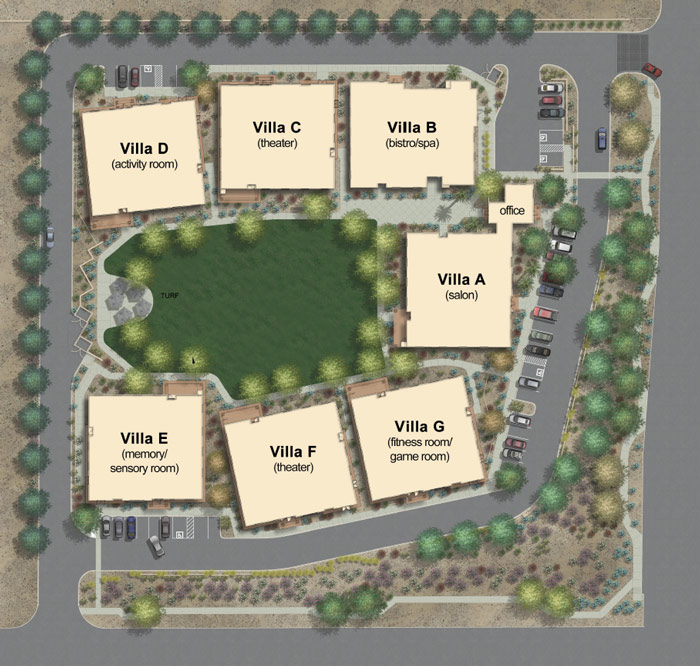 Assisted living Activities:
At Park Senior Villas, we know that quality of life is measured not just by nice surroundings. Engaging assisted living activities that promote cognitive stimulation, social interaction and physical well-being are critical to maintaining a strong mind and healthy body.
Our full-time Activities Director develops and facilitates a wide range of senior center activities and events based on resident ability and interest. While participation is always optional, we do foster and encourage involvement so residents can maintain a level of independence for as long as possible.
We combine daily activities for seniors along with with monthly outings to restaurants, movies, the zoo, and other local attractions. Frequent live entertainment is always changing but includes resident favorites such as music therapy, musicians, intergenerational activities and pet therapy visits. Our families are always invited and welcome to join us for any event, assisted living activity… or even just for lunch!
Features & Amenities at Chandler:
The Bistro (where the community gathers)
Movie Theatre
Therapeutic Spa
Three Daily Chef-Prepared Meals
Salon On-site
Secure Park Area with Benches
Conversational Outdoor Space
Game Room, Arts & Crafts Room, Fitness and Rehabilitation Rooms
Pet Friendly
Fresh Nutritious Meals 24/7
Private dinning available for residents and families to reserve
Housekeeping & Laundry
Lushly Landscaped and Spacious Patios
Holiday Parties, Socials, and Cookouts
Private & Semi Private Rooms
Resident Designed Living Space
Modern Style Great Room
Bathrooms Equipped with Safety Features
24-Hour Emergency Response System
Dedicated & Licensed Clinical Care Team
Floor Plans:
Increasingly, research confirms that environment plays a critical role in helping seniors to maintain their quality of life as they age. PARK assisted living communities and neighborhood homes were custom designed with the specific needs of our residents in mind. Homes feature open floor plans with lots of natural light. Elevators, stairs and long hallways have been eliminated allowing caregivers to be just a few feet away at all times. Each spacious 6,500 square foot home has ten resident rooms, with private bathrooms and closets. There are single and double occupancy options available. Residents enjoy the beautifully furnished living room, gather around the kitchen during meals, or enjoy a personal conversation with family in the private dining room.
Each Home Features:
10 large resident rooms with private baths that range in size from 167 SF to 254 SF
Individually controlled heating and cooling systems in each room
Two emergency call system pull cords in each room – one in the living area and one in the bathroom
Keypad-entry doors to provide a secured environment
Large living rooms, dining rooms, and special private dining spaces for families
Open floor plan with high ceilings and lots of natural light
Specific amenity rooms include hair salon/barber, theater room, exercise room, and game room
Residential kitchen open 24/7 with snacks always available
Professionally managed by onsite nurse and care staff 
SEE WHAT OUR RESIDENTS
& FAMILIES ARE SAYING
8:1 resident to caregiver ratio
24/7 caregiving services
On-site Clinical Staff
Neighborhood style properties with open courtyards
Chef prepared meals*
Activities, entertainment, and daily socials
Therapeutic resort style spa*
Full service salon
Pets welcome
*Accept AZ long term care insurance for qualifying individuals
*Specific Locations Only
8:1 resident to caregiver ratio
24/7 caregiving services
On-site Clinical Staff
Neighborhood style properties with open courtyards
Chef prepared meals*
Activities, entertainment, and daily socials
Therapeutic resort style spa*
Full service salon
Pets welcome
*Accept AZ long term care insurance for qualifying individuals
*Specific Locations Only