Welcome to Park Senior Villas at La Cañada
Welcome to Park Senior Villas at La Cañada
Welcome to Park Senior Villas at La Cañada
Assisted Living in Tucson, Arizona
Tucson is located in the beautiful Sonoran Desert, surrounded by 5 mountain ranges, and filled with majestic Saguaro cacti. It is known for its bright blue skies with sunshine over 310 days a year.  It is home to the University of Arizona, a premier research institution. Tucson is a vibrant community, rich in history and culture with an abundance of attractions and activities
Park Senior Villas on La Cañada is located on the north side of Tucson in the Casas Adobe area. Situated on several acres this spacious and tranquil community has scenic vistas and wandering paths amongst the canopy of trees. Listen to the birds sing or the fountains splashing in the professionally designed sitting areas.  14 Villas come together to form a large neighborhood that is safe and secure.  Residents gather together with friends and family at our community Grand Ramada to enjoy holiday festivals or be entertained at one of our many concerts in the park.
At Park Senior Villas, we provide All-Inclusive Care that is individualized and affordable so no matter what your needs are now or in the future, you can rest assured there will always be a special place for you. Come and join us at the Villas Café where you can join us for coffee and conversation and then take a tour of our amazing community.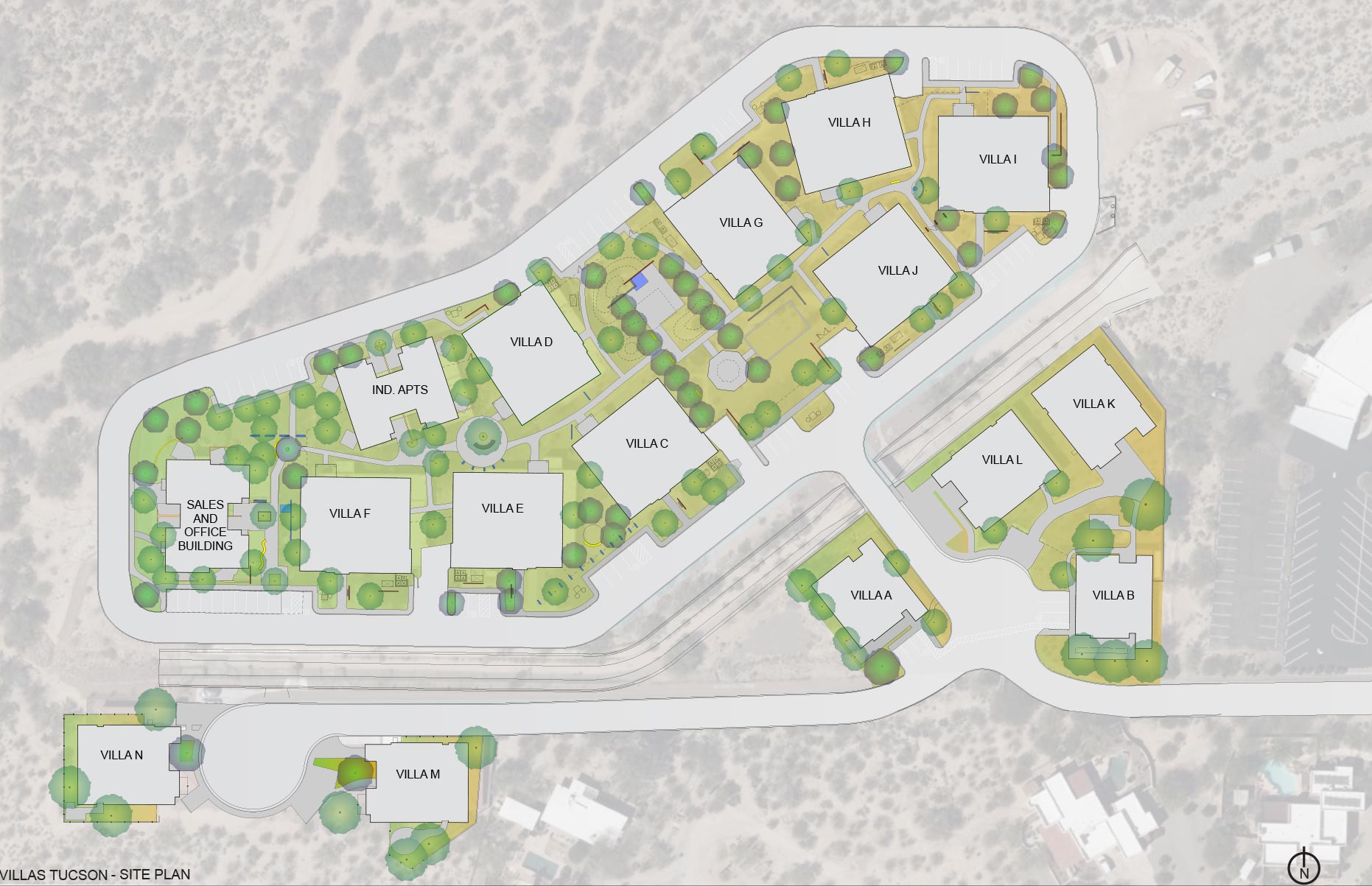 Assisted living Activities:
At Park Senior Villas assisted living, we know that quality of life is measured not just by nice surroundings. Engaging assisted living activities that promote cognitive stimulation, social interaction and physical well-being are critical to maintaining a strong mind and healthy body. Our goal is for you to maintain passion and purpose in the things you love to do
Please take a look at our monthly calendar. We combine daily activities for seniors as well as special monthly events for the entire community. Frequent live entertainment is always changing but includes resident favorites such as music therapy, musicians, intergenerational activities and pet therapy visits. Our families are always invited and welcome to join us for any event, assisted living activity, or even just for lunch!
Features & Amenities at La Cañada:
Salon On-site
Secure Park Area with Benches
Conversational Outdoor Space
Game Room, Arts & Crafts Room, Fitness and Rehabilitation Rooms
Pet Friendly
Fresh Nutritious Meals 24/7
Private dinning available for residents and families to reserve
Housekeeping & Laundry
Lushly Landscaped and Spacious Patios
Holiday Parties, Socials, and Cookouts
Private Rooms
Resident Designed Living Space
Newly Renovated Great Room
Bathrooms Equipped with Safety Features
24-Hour Emergency Response System
Dedicated & Licensed Clinical Care Team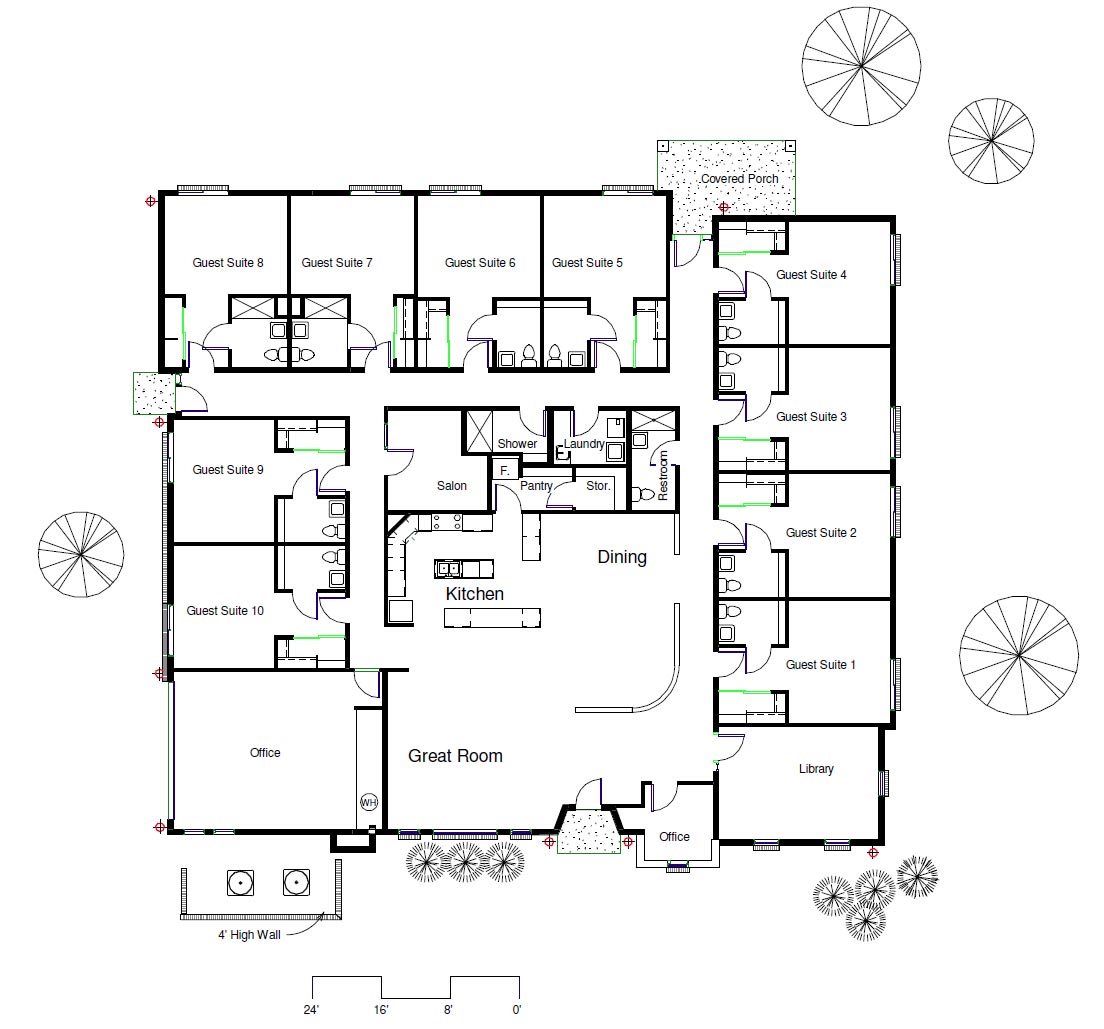 Floor Plans:
Increasingly, research confirms that environment plays a critical role in helping seniors to maintain their quality of life as they age. Park assisted living communities and neighborhood homes were custom designed with the specific needs of our residents in mind. Homes feature open floorplans with lots of natural light. Elevators, stairs and long hallways have been eliminated allowing caregivers to be just a few feet away at all times. Each spacious 6,500 square foot home has ten large private rooms with bathrooms ranging in size from 280-382 square feet. Residents enjoy the beautifully furnished living room, gather around the kitchen during meals or enjoy a private conversation with family in the study.
Keypad-entry doors to provide a secured environment
Large living rooms, dining room and study
Open floorplan with high ceilings and lots of natural light
Specific amenity rooms include hair salon/barber, fitness room and multi-sensory room
Residential kitchen open 24/7 with snacks always available
Professionally managed awake caregivers in each home 24 hours a day
SEE WHAT OUR RESIDENTS
& FAMILIES ARE SAYING
8:1 resident to caregiver ratio
24/7 caregiving services
On-site Clinical Staff
Neighborhood style properties with open courtyards
Chef prepared meals*
Activities, entertainment, and daily socials
Therapeutic resort style spa*
Full service salon
Pets welcome
*Accept AZ long term care insurance for qualifying individuals
*Specific Locations Only
8:1 resident to caregiver ratio
24/7 caregiving services
On-site Clinical Staff
Neighborhood style properties with open courtyards
Chef prepared meals*
Activities, entertainment, and daily socials
Therapeutic resort style spa*
Full service salon
Pets welcome
*Accept AZ long term care insurance for qualifying individuals
*Specific Locations Only