Residents Honor Those Affected By Heart Disease By 'Keeping The Beat!'
To observe American Heart Month, each Park Senior Villas community hosted a Heart Health Walk on a Saturday in February. Neighbors, families, and friends came together to join residents from our communities in showing their support for the millions of Americans who are living with heart disease or have felt its impact in some way.
The weather for the walks was warm and sunny—much like the people who live in our communities. Wearing the bright red Keep the Beat! T-shirts made for the occasion, those who participated in the events walked and strolled along the designated pathways, while observing COVID-19 safety precautions, of course. The events were a categorical success, as the participants got some exercise, enjoyed each other's company, and raised money to donate to the American Heart Association.
The Heart Health Walks are a prime example of how residents at PARK Senior Villas care about their neighbors and are an integral part of their surrounding community.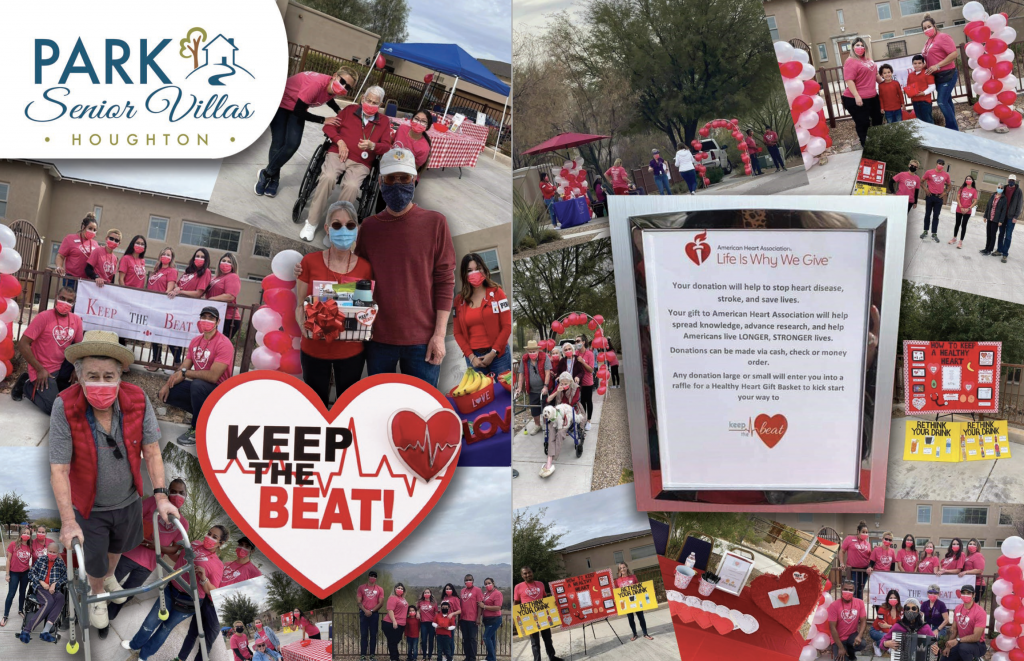 No Need To Wait Until American Heart Month To Improve Your Heart (And Overall) Health!
While February is the official American Heart Month, during which people and organizations across the country raise awareness of heart health, you can take steps anytime—including right now—to show your heart some tender loving care. The payoff could be, quite literally, life-changing.
Our risk for developing heart disease increases as we age, but there are ways we can lower the risk and, in some cases, even reverse it, according to the National Institute on Aging (NIA). The buildup of plaque inside the arteries can interfere with blood flow, which is vital to delivering oxygen and nutrients to the heart. That can cause muscle cells in the heart to die, weakening the heart and preventing it from functioning as it should.
Chances are you're already familiar with at least most of the usual recommendations for keeping your heart healthy:
Get A Move On. Talk with your doctor for suggestions about what type of physical activity might be best for you and how to incorporate it into your daily routine. In general, try to engage in activities you enjoy that will get your heart rate up, and aim for at least 20 to 30 minutes on most days, even if you need to get there gradually. Having a friend or family member join you can make it more fun.
If You Smoke, Stop! The NIA notes that smoking increases the damage to artery walls. Even if you've been a smoker for decades, you can still reduce the risk of heart disease, stroke, and cancer by giving up the habit for good.
Adopt A Diet That's Kinder To Your Heart. This isn't news either, but it could be one of the easiest things you can do to show your heart (and the rest of your body) some love. See the section below for more on healthy eating.
Watch Your Weight. If you start making heart-healthy changes to your diet, you may find that you'll start to shed any excess weight you'd like to lose, especially if you also increase your physical activity.
Manage Any Chronic Conditions You May Have. High blood pressure, high cholesterol, and diabetes can all contribute to a greater risk for heart disease, so there's even more incentive to adhere to your treatment plan if you have any of these chronic illnesses. As a bonus, getting more exercise and changing your diet might very well improve your chronic disease(s), too!
If You Drink Alcohol, Keep It To A Minimum. This one's pretty straightforward, although the NIA's suggested guidelines could be lower than you think: no more than two drinks per day for men and one drink per day for women.
Avoid Unnecessary Stress. Just about everybody has some stress. It's how we deal with it that makes a difference. Sometimes talking to someone who's a good listener, going for a walk, or listening to music you like is enough to get rid of any stress you might be feeling. Even finding something that will give you a good laugh can help!
These guidelines are relevant for adults of any age, but, given the higher risk for heart disease that comes as the years continue to pass, there's an argument to be made that we should take this advice "to heart" even more as we get older. With age comes wisdom, right?
Informed Food Choices: The Nutritious, Delicious Way To Have A Happier Heart
Maybe it's no coincidence that National Nutrition Month follows National Heart Month. After all, what you eat matters a lot to your heart.
There's no shortage of excellent information online about making healthy choices, as well as recipes and cooking tips for making meals that will make your heart happy and tempt your taste buds, too. For example, MyPlate.gov has a whole section of the website devoted entirely to nutrition for older adults. So does the Academy of Nutrition and Dietetics.
Bear in mind that you don't have to live on a steady diet of "rabbit food" to be healthy. There are some basic steps that can promote better health, such as eliminating trans fats, reducing saturated fats, and reducing your intake of salt and refined sugar. Your doctor may be able to offer some suggestions, and if you really want to get serious about changing your diet, talk to a professional who's trained specifically in the area of nutrition. Here at Park Senior Villas, we have a registered dietitian who develops our menus each season to ensure that residents enjoy a variety of nutritionally balanced dining choices.
Here are a handful of helpful tips from the NIA that can improve your overall well-being:
Make Sure You Drink Enough Liquids. The NIA notes that older adults can experience some loss in their sense of thirst, so be sure to drink water or other hydrating liquids often. Just beware of the sugar and caffeine content of your beverages to avoid taking in too much of either.
Mix Up Your Vegetable Selections. To help ensure that you're getting all the nutrients you need, eat a variety of vegetables, in terms of both color and texture. Go for those with vibrant hues, as well as crisp, leafy lettuces and other garden greens. Know that frozen vegetables are often as nutritious as fresh ones, and sometimes even more so.
Season With Herbs & Spices. If food doesn't seem to taste like it used to, that could be because your sense of taste or smell has changed, and maybe both. Some prescription drugs can also affect the way foods taste. Instead of reaching for the salt shaker, be adventurous and try using other flavor-enhancing options.
Control Your Portions. This is usually easy enough to do at home with a little self-discipline—easier said than done at times, we know. Dining out can be more of a challenge, though. If you feel full before you're finished, save the rest for another meal.
Eat Softer Foods If You Need To. If you have issues with your teeth or gums that make it hard to chew certain foods, like nuts or crunchy fruits and vegetables, try to substitute a softer food that won't cause you to sacrifice the nutrients you need.
The Lifestyle At PARK Senior Villas Can Help You Stay Your Healthiest
We make it our mission to foster the highest level of independence for residents in our community who require some help through assisted living services. That means providing personalized, intimate homes where they can feel comfortable and secure, knowing that a certified caregiver is close at hand.
It also means offering activities and opportunities to satisfy residents' intellectual, emotional, social, spiritual, and physical needs. Special philanthropic events like our Heart Health Walk present the chance for residents to work together with their families, friends, our staff, and other residents to increase their sense of purpose while sharing some fun.
Our communities feel like neighborhoods because that's what they are. Our goal is to help everyone who lives at Park Senior Villas flourish and live their best.
We invite you to learn more about our lifestyle and programs and schedule a tour to see what living here is like.