Each November, in conjunction with Alzheimer's Awareness Month, our communities invite residents, their families, staff members, and other volunteers to participate in the annual Alzheimer's Association Walk to End Alzheimer's.
This year, we held a walk supporting Alzheimer's funding in each of our communities on Saturday, November 6. We'll provide more details later in this post. First, though, we want to offer some information about this disease that affects an estimated 6.2 million Americans, along with their families and caregivers.
The Difference Between Alzheimer's Disease and Dementia
Although the terms "Alzheimer's disease" and "dementia" are sometimes used interchangeably, they aren't the same.
Dementia is a general term used to refer to a decline in mental ability that is severe enough to interfere with a person's everyday routine and activities. A person with dementia may experience loss of memory, an impaired ability to reason or make decisions, difficulty communicating, and other issues with thinking skills.
While some believe that dementia is a "normal" part of the aging process, that's not true. Dementia is the result of damage to brain cells that prevents them from communicating with each other.
Depending on the type of dementia, different regions of the brain can be affected. As a result, different functions of the brain can be altered. Symptoms can manifest in the form of changes in behavior, mood, and thought processes.
It's possible to have more than one form of dementia at the same time. This is a condition referred to as "mixed dementia."
Alzheimer's disease is a specific type of dementia that accounts for up to 80% of all dementia cases. Like other forms of dementia that are progressive, Alzheimer's disease worsens with time.
In many cases, Alzheimer's disease affects the region of the brain called the hippocampus first. The hippocampus is associated with learning, so cell damage in that region of the brain can result in difficulty retaining new information.
As time passes, those with Alzheimer's disease may become confused and disoriented. Their behavior may change. Gradually, they may find it more difficult to talk, walk, and even swallow.
Alzheimer's disease primarily affects people who are 65 or older. There's a subtype, however, called early-onset or younger-onset Alzheimer's disease that can affect people as young as in their thirties. According to the Centers for Disease Control and Prevention (CDC), Alzheimer's disease is the fifth-leading cause of death among adults age 65 or older in the U.S., and the sixth-leading cause of death among all adults in this country.
Although the symptoms associated with Alzheimer's disease typically appear after age 60, it's thought that the disease probably starts a decade or more before the symptoms become obvious.
While a cure remains elusive, advances in research continue to provide hope. Organizations such as the Alzheimer's Association are diligent in their efforts to support research and provide helpful resources to people who are living with Alzheimer's disease and other types of dementia, as well as their loved ones and caregivers.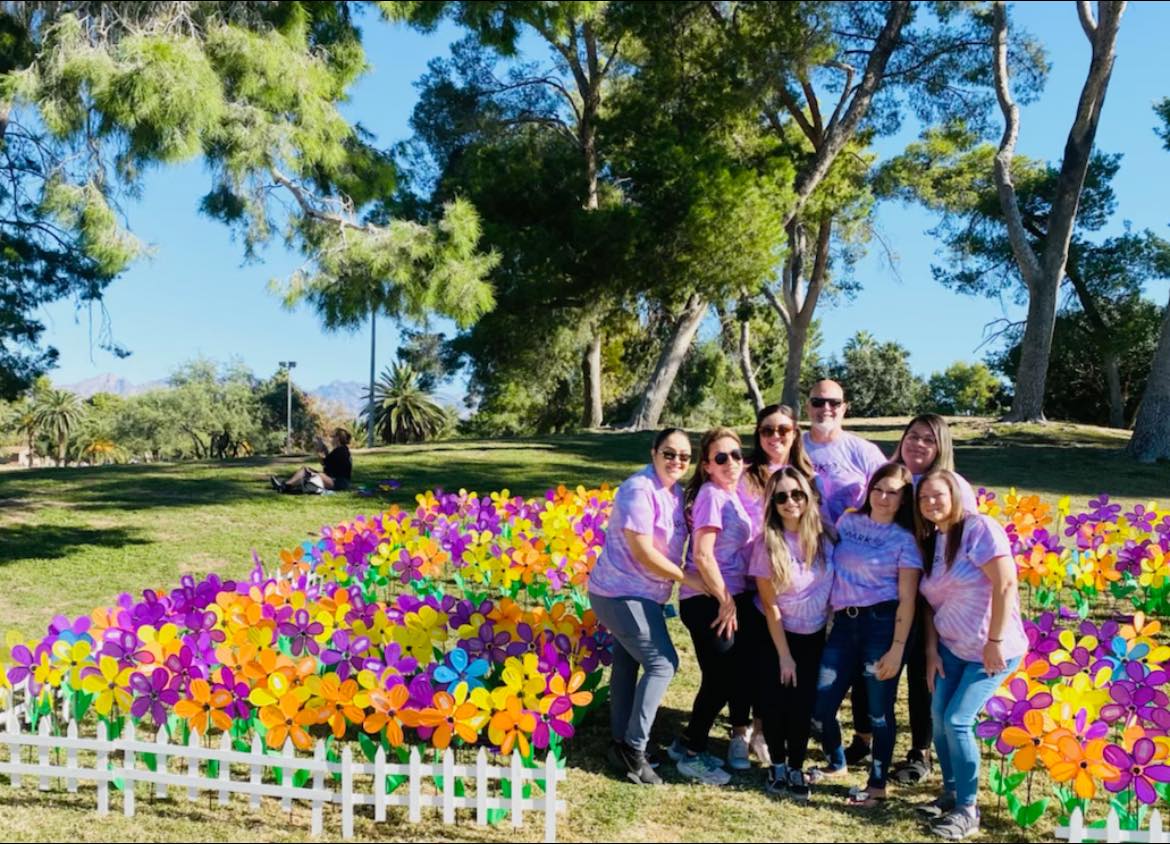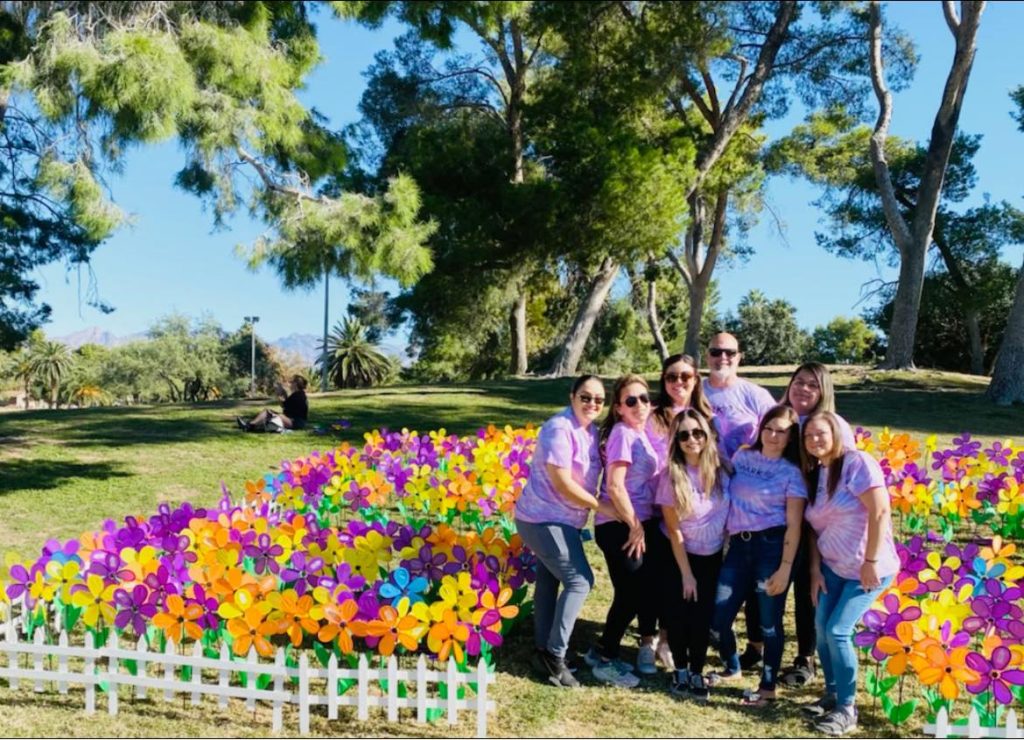 Supporting Alzheimer's funding and other steps to end dementia
The Alzheimer's Association is one of the leading organizations working globally to bring an end to Alzheimer's disease and other forms of dementia. The organization was founded more than 40 years ago to bring caregivers together, offer support and advocacy to people living with Alzheimer's, and move research forward.
In the years since the association was founded, researchers have identified proteins in the brain that appear to be associated with Alzheimer's disease, as well as a specific gene and genetic variations that are linked with a higher risk for developing the disease. Several drugs have been developed to treat the symptoms of Alzheimer's disease, and advances in imaging have made early detection more likely. Biological markers, or biomarkers, are also being evaluated as a potential method of early detection.
All along the way, the Alzheimer's Association has been collaborating with medical experts and federal agencies such as the National Institute on Aging to find a cure and bring an end to this debilitating disease.
Through its International Research Grant Program, the Alzheimer's Association funds independent researchers all over the world. According to the association's website, the organization is currently investing more than $250 million in more than 750 projects in 39 countries.
Those projects are designed to achieve a range of goals, such as:
Gaining a better understanding of Alzheimer's disease
Identifying new strategies for treating Alzheimer's
Improving care and support for people living with Alzheimer's and their families
Increasing what is known about brain health and disease prevention
Last year, the association made its largest research investment to date, granting more than $47 million to 139 scientific investigations.
Why Alzheimer's Awareness Month means so much to us
Every day in our communities, we see the effects of Alzheimer's disease on the residents of Park Senior Villas who are living with it. We also witness how it affects their friends and family members.
We see the challenges and the struggles. We see the perseverance, the commitment, and the love.
We are honored that so many families trust us to care for their loved one who has Alzheimer's. We are delighted when residents and their families can share good days. We are thankful that we can be here for them on the not-so-good days.
If you know someone who has Alzheimer's disease, then you understand what we're talking about. If you haven't seen up close what this disease can do, then Alzheimer's Awareness Month presents some excellent opportunities to learn more about it.
By holding our walks each year as part of the Alzheimer's Association Walk to End Alzheimer's, we can play a role in raising awareness and contributing to the research that will one day lead to a cure.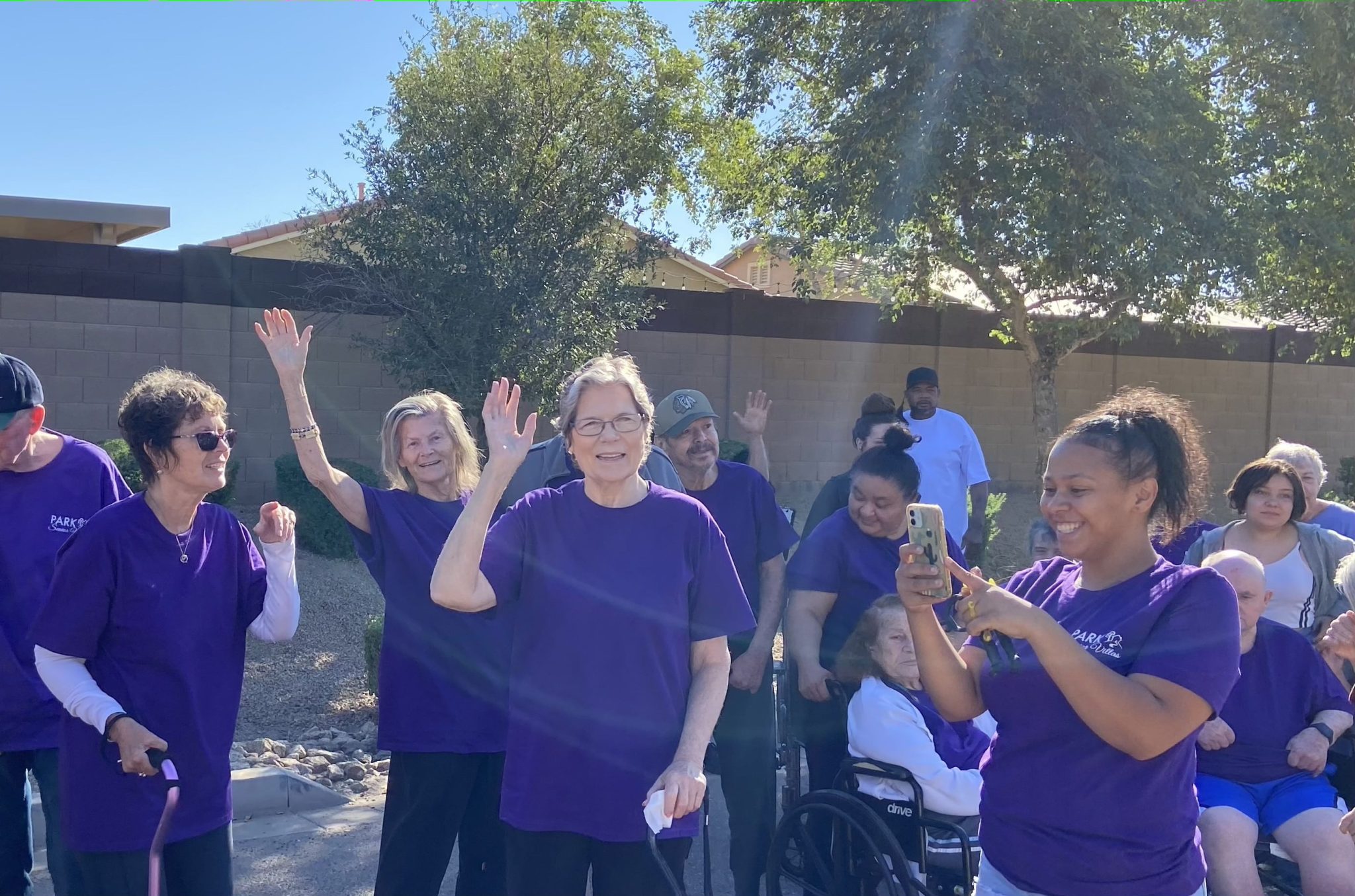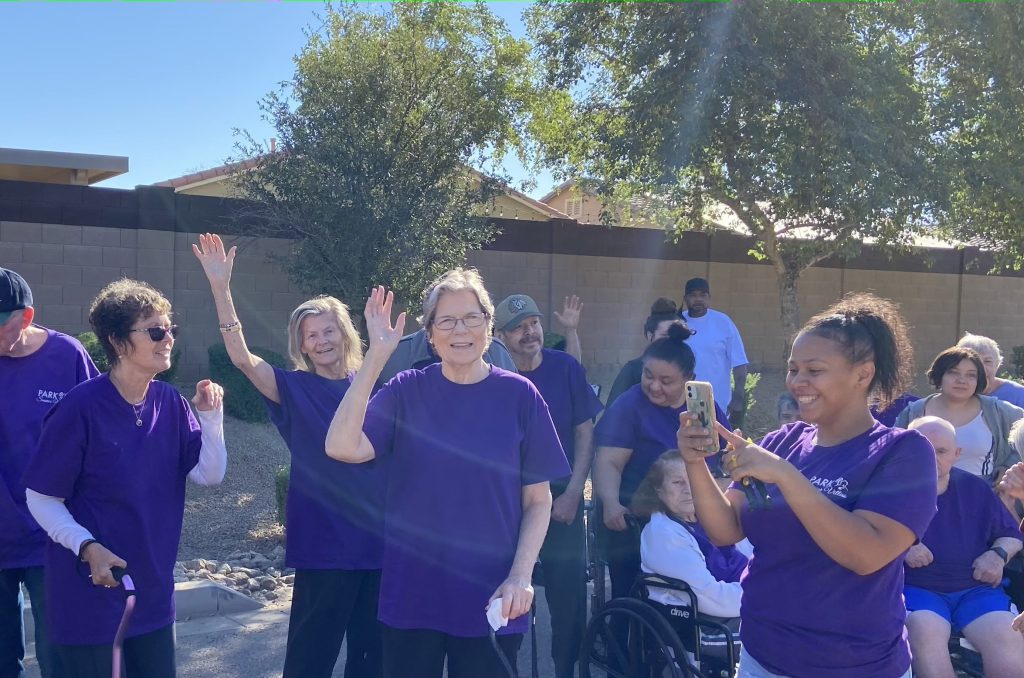 This year's Alzheimer's walks at Park Senior Villas
All four of our communities held their own walk supporting Alzheimer's funding on November 6. Our two Tucson communities, Houghton and La Cañada, also participated in Tucson's Walk to End Alzheimer's event on October 30.
As you can tell from the photos, the turnout was fantastic, with about 300 people of all ages showing up to support the cause. We even had a few four-footed participants!
At our Goodyear location, more than 100 people came to walk. The crowd included residents of Park Senior Villas and their families, people from the surrounding neighborhoods, like Pebble Creek, some of our industry partners, and all of the staff — even those who were "off duty" that day. A fantastic DJ was on hand to help keep everyone in motion, and a food truck was ready to serve those who worked up an appetite while walking.


Our Houghton community raised more than $1,700 during its walk event. Those who donated received a large, colorful mesh flower, which they could sign in honor of a special person and "plant" in the Promise Garden. A Tribute Tree was also available, where people could share a special memory. There were plenty of other activities besides the walk, too, like an outsize checkerboard (and checkers to match, of course), brain games, and a giant Connect 4.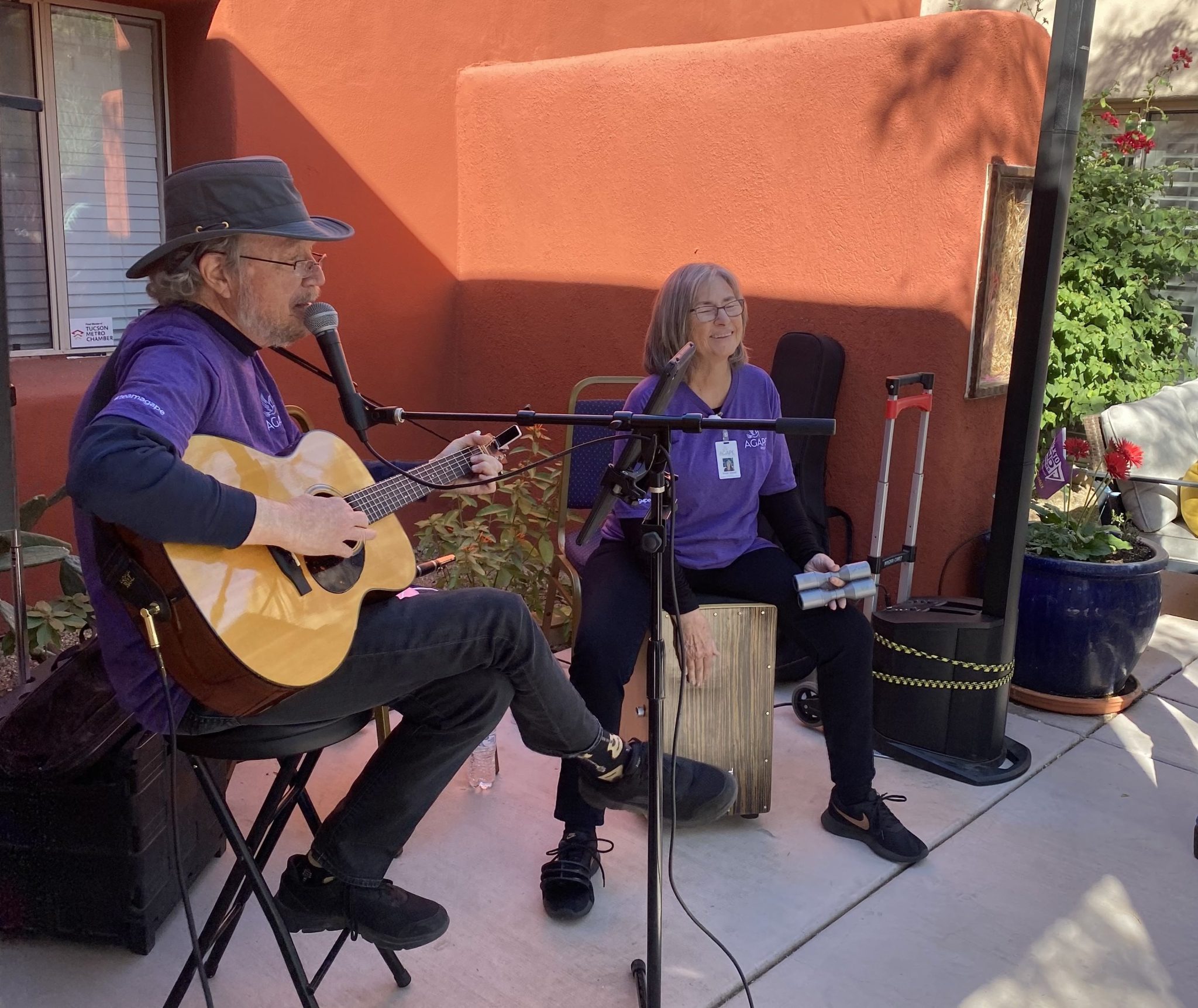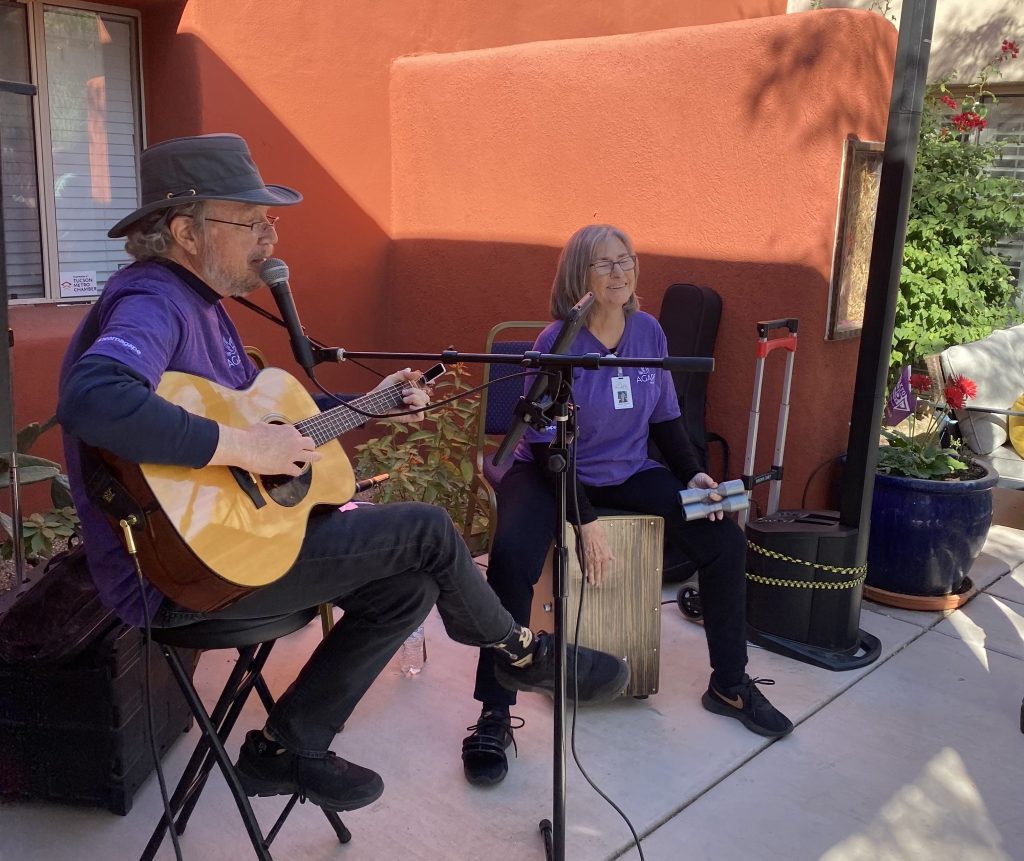 La Cañada also had a fantastic turnout. Participants could kick off their walk with a sweet treat (or indulge in one afterward to replenish their energy). Donors were invited to place their color-coded flowers in the Promise Garden, and there was a Tribute Tree here, too. Yet again, the community's relationship with Agape Hospice proved extremely beneficial, with Agape sponsoring two of its volunteers, Brad and Susan, who provided music for the event.
Our new community in Chandler had a Promise Garden and a Tribute Tree as well. They raised about $500. ATLAS Healthcare provided coffee and donuts for the participants to enjoy as the event got underway, and later, a food truck from Mama Olga's offered delicious fresh tamales. Throughout the event, Lorenzo, always a favorite, played songs featuring the word "walk." Another special guest, Dollystar — the only therapy calf in Arizona — fascinated attendees of all ages.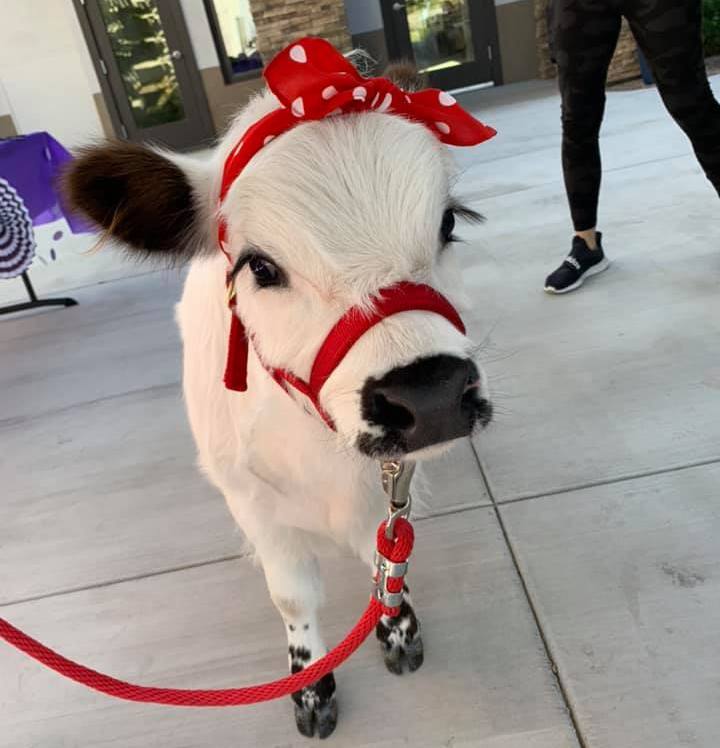 If you'd like to see more photos of the walks in each community, you'll find lots of them on our Facebook pages.
Are you caring for someone with Alzheimer's? We can help.
According to the Alzheimer's Association, more than 11 million Americans provide unpaid care for people who have Alzheimer's disease and other dementias. If you're one of those unpaid caregivers, we know that you do it out of love.
We can help you, whether it's by pointing you in the direction of available resources, giving you a breather through our respite care service, or welcoming your loved one as a resident in one of our communities.
Our homes have been designed to accommodate the specific needs of residents as they progress through the aging progress. For those with memory loss, Alzheimer's disease, or other types of dementia, our small home, personalized care model offers particular advantages.
For instance, our villas provide an intimate setting that looks and feels like a family home, making it easier for newcomers to settle in and feel comfortable. The model also makes it possible for our staff members to spend more one-on-one time with each resident, and that helps us get to know them (and their unique needs) on a more personal level.
Reaching out for help can be a big step. If and when you're ready to start exploring your options, we invite you to come tour any of our Park Senior Villas communities. You can schedule a time at your convenience. We're also happy to provide a virtual tour — just let us know.